Silvan Selecta adds the new generation 55 litre redline spotpak as the ideal portable sprayer
The latest addition to the Silvan Selecta Spotpak range is the ideal unit for use on an ATV or similar mobile vehicle for spot spraying, fence line, row or general weed control needs.
The Spotpak 12V Redline model sprayer has a 55 litre capacity, UV stabilised Polytuff polypropylene tank and is supp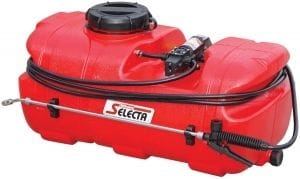 lied as a self contained complete unit.
The pump is 12V self priming providing 2.5 litres per minute of open flow at a maximum of 50 PSI and includes Viton valves and a TPU diaphragm, which is ideal for spot spraying.
Fitted with a six metre length of delivery hose and spot spray gun with a 550 mm stainless steel lance extension and adjustable nozzle which enables many spot spraying points to be reached without the need to leave the seat of an ATV or for instance to spray while in motion along fence lines, rows or tree plantations.
The tank has formed moulded grooves for tie-down straps, a 25mm drain bung and comes with a clip-on and hold feature for the spray hose, lance and gun as well as moulded brass inserts in the tank's base for permanently attaching the unit to a flat tray if required.
The Redline unit is also supplied with a three metre battery lead pre-fitted with alligator clips.
A new style lid is provided with a lid retaining ring to prevent loss and includes a 650 ml capacity chemical measuring jug which tucks away securely under the lid of the tank.
With dimensions of 715mm in length, a width of 425mm and a height of 360mm the 55 Litre Redline Spotpak weighs only 5.4 kgs dry and is uniquely compact and convenient to fit to the tray of an ATV or a similar mounting point.
Silvan Selecta spokesman Greg Everett says "The Selecta 55 litre Redline Spotpak is the ideal complement for small holdings, hobby farm, grounds maintenance or similar needs to spray for weed control, vegetation management and other regular tasks".
"For a complete unit of tank, 12 volt pump and spray accessories the recommend retail price of $199 makes it a very attractive and convenient solution for regular spraying needs."
For more information contact us on 1300 327 626 or click here for complete product information.