Posted by Chanel Duggan on 3 November 2020
Successfully preparing your farm and farm stock for the hottest months of the year pays huge dividends in the form of healthy, productive and happy animals. Animals that are maintained well during the most difficult season of the year also achieve good prices at market all year round.
In Part 1 & Part 2 of our articles on Preparing for Summer we include four focus areas to ensure a peaceful and happy summer season, with Part 1 commencing with the jobs we recommend you deal with first and foremost.

1. Firebreaks, Fences and Other Jobs Around the Farm to Prevent Problems in Summer
Fire breaks are a key annual summer preparation task to ensure access to all parts of a farm in the event of a fire and usually need to be completed by mid-October to early November, depending on which shire your farm is located in. Chemical firebreaks are created using sprays like Glyphosate or Roundup to kill winter weeds and vegetation in the fire break area. Graded fire breaks are created using a grader blade or grader blade attachment on the back of a tractor.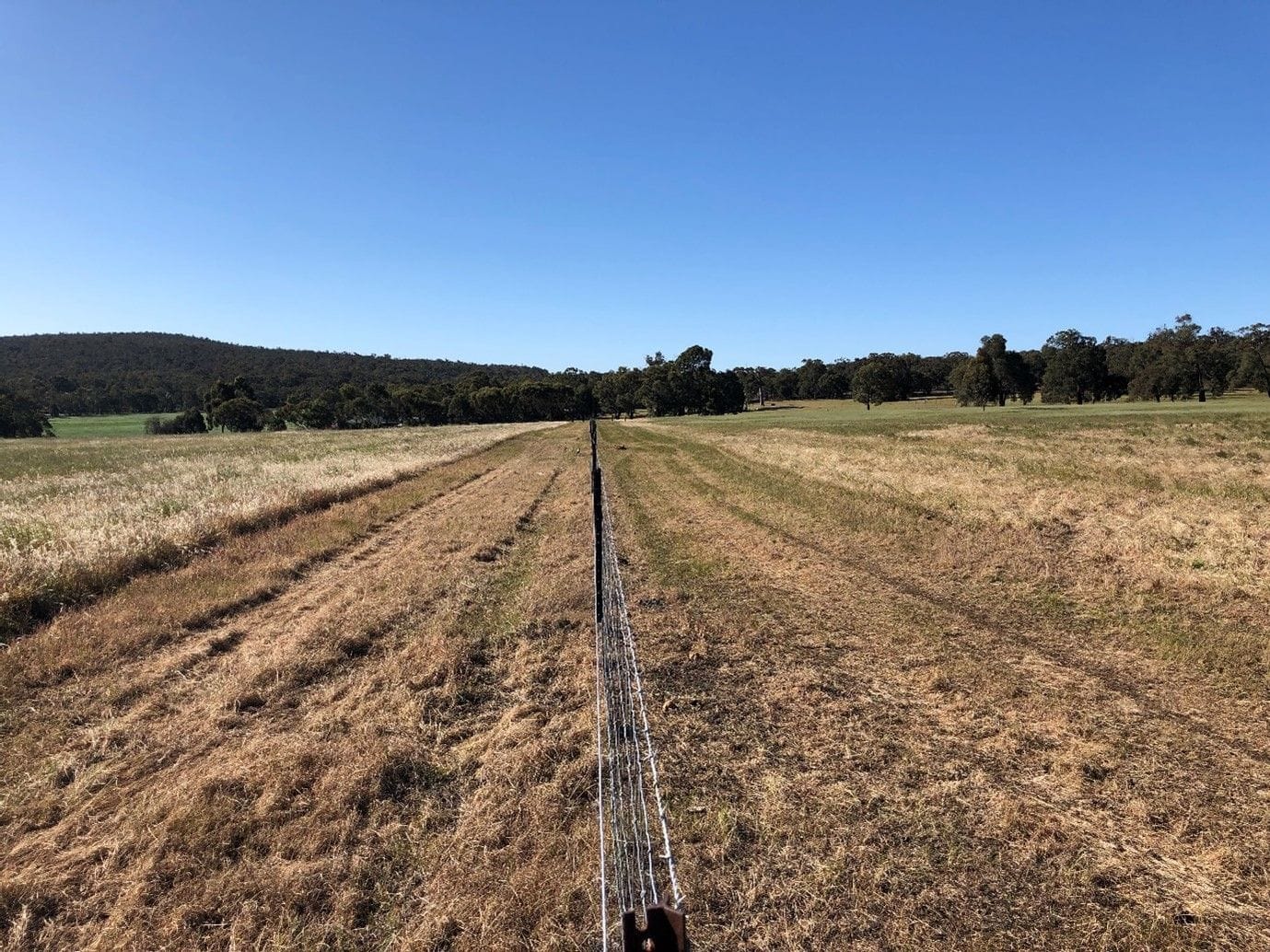 Chemical firebreaks cut either side of a fence.
Cultivated fire breaks are created using scarifiers or other mechanical means to "rip up" the fire break and clear the area of vegetation.
The general farm tidy up and burn off should be completed before summer fire restrictions commence. However burning can still be completed if a permit is obtained in some shires, with burning permits usually required from mid-September/October, and then all burning prohibited by November/December.

Vermin and pests will also often pop up as the weather warms up in spring, and need to be managed to ensure that they don't terrorise you over the summer and obliterate valuable grain and hay supplies. Avoid storing hay or grain close to the farm house as both create havens for mice, and large numbers of fat juicy little mice in turn create a snake problem. If you do need to store hay on farm, reduce the numbers of vermin by baiting or using other vermin management tools.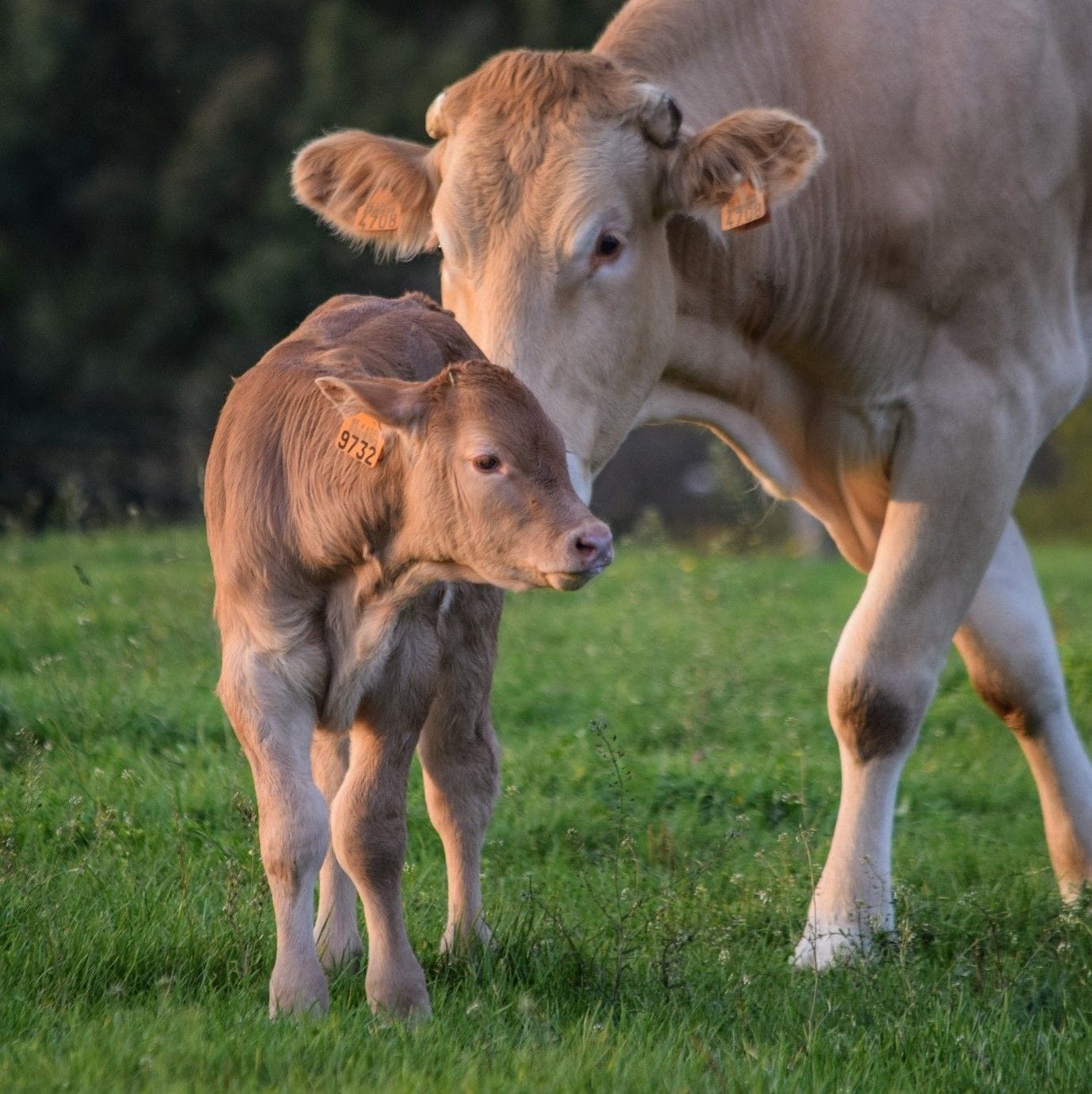 Fences should also be checked as part of preparing for summer to ensure that stock are secure during the hottest months of the year, especially in paddocks where younger animals will graze. Lambs, calves and foals are all curious and will find holes in fences easily, especially in the middle of summer when the grass really is greener on the other side of the fence.
The Farm Co can help with the best tools to get summer fire breaks sorted, and we can also assist with fencing tools and vermin management products.
2. Weed Management
When you are cutting firebreaks or checking waters over the summer you can also keep an eye on any suspicious weeds around the farm.

There are a number of spring and summer weeds that are toxic to either one or more species of stock. Weeds like cape tulip are poisonous to cattle but can also be dangerous when grazed by sheep, arum lily is toxic to sheep, cattle and horses, caltrop can be toxic to sheep and goats and Paterson's curse is toxic to horses and pigs.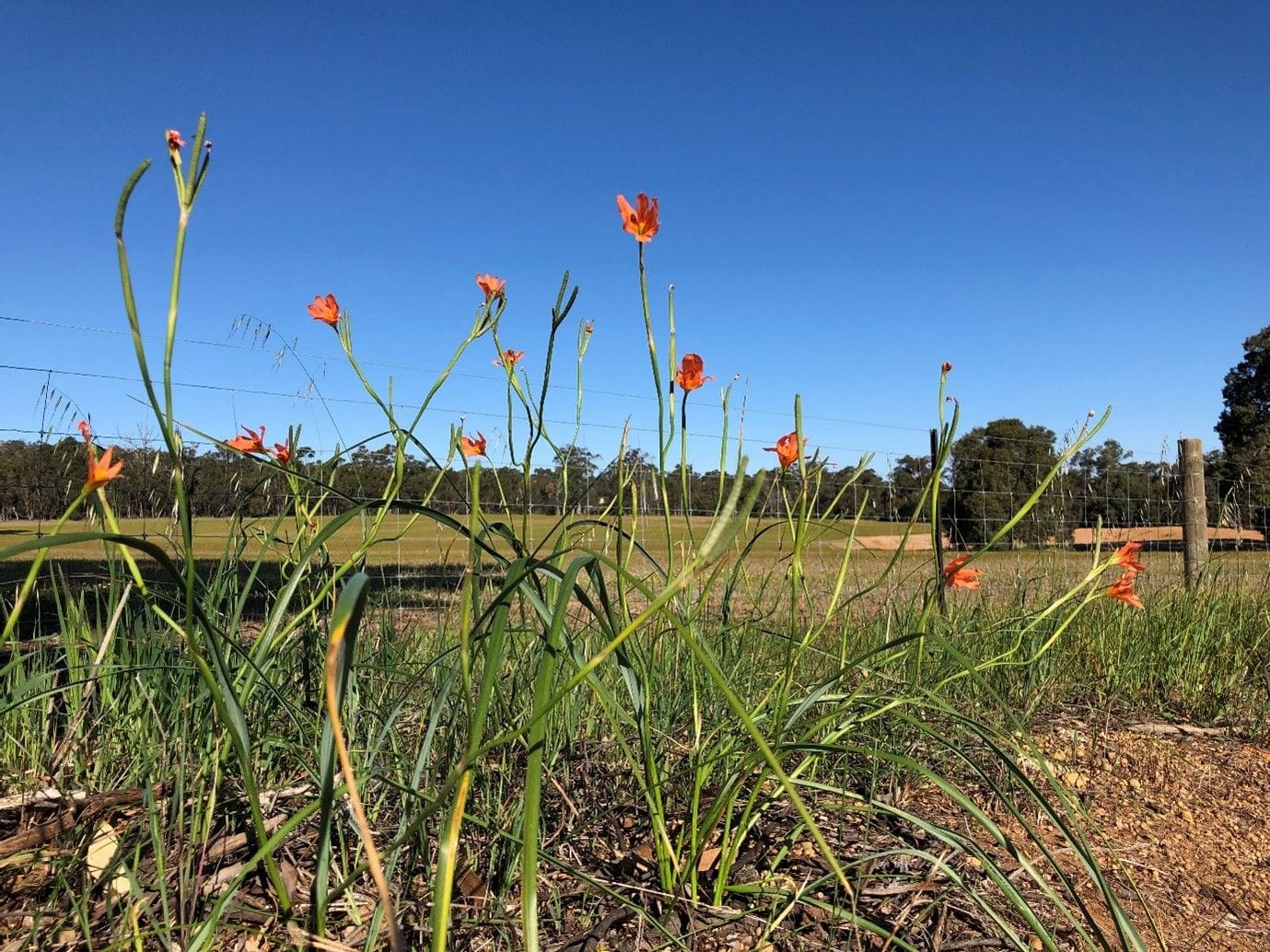 The pretty but potentially deadly cape tulip on a farm near Northam.

Grasses like barley grass also need to be managed as grass seeds from these species will make their way into the eyes, wool and skin of sheep and other animals.
We can help with tools to assist you manage the full range of spring and summer weeds that can pop up on farm.
3. Plenty of Cool Clean Water
Ensuring a plentiful and reliable supply of cool clean water for animals is a key part of summer preparation on any farm.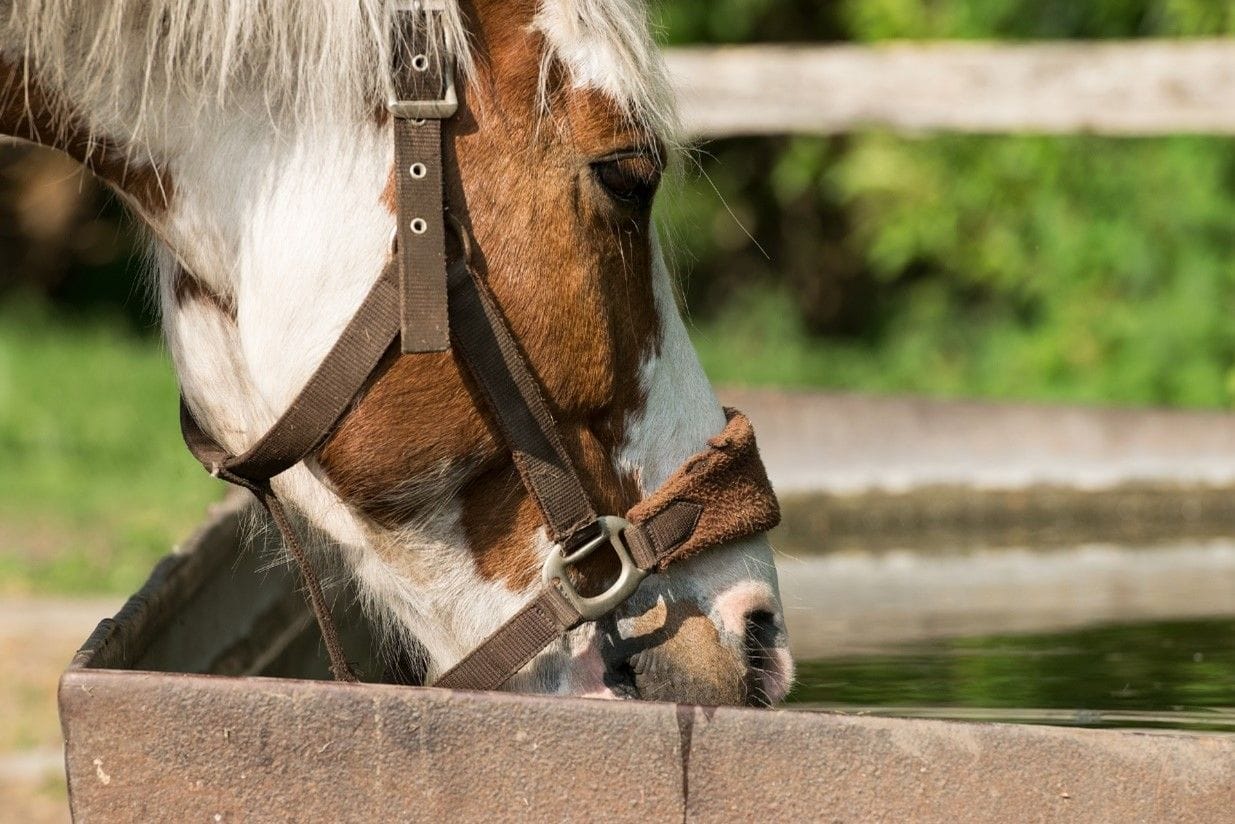 A happy horse taking a morning drink.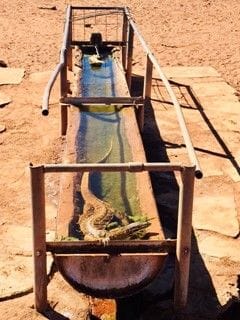 Large goannas (or bungarras as they are also known) love to enjoy a cooling bath in livestock troughs up north. Photo courtesy of Lara Jensen

Animals need to be familiar with the location of their watering point, which should be close to shade and in a quiet location away from noisy households or roads if possible. Water troughs or containers must be solid and stable, and outlets as well as ball taps (which allow the water source to cut off when the trough is full) must be protected from damage by stock. Also, "Water pipes should be of sufficient diameter with sufficient pressure to cope with periods of peak demand. Unless you are around to continually check water containers then water should be provided through automatic or reticulated systems rather than in containers that may be emptied or tipped over by thirsty animals," Agriculture Victoria, Caring for Animals During Extreme Heat. Some farmers on larger landholdings ensure stock have access to two different sources of water within the same paddock during summer, especially if the paddock is in a remote area of the farm and can't be checked on as regularly as other parts of the farm.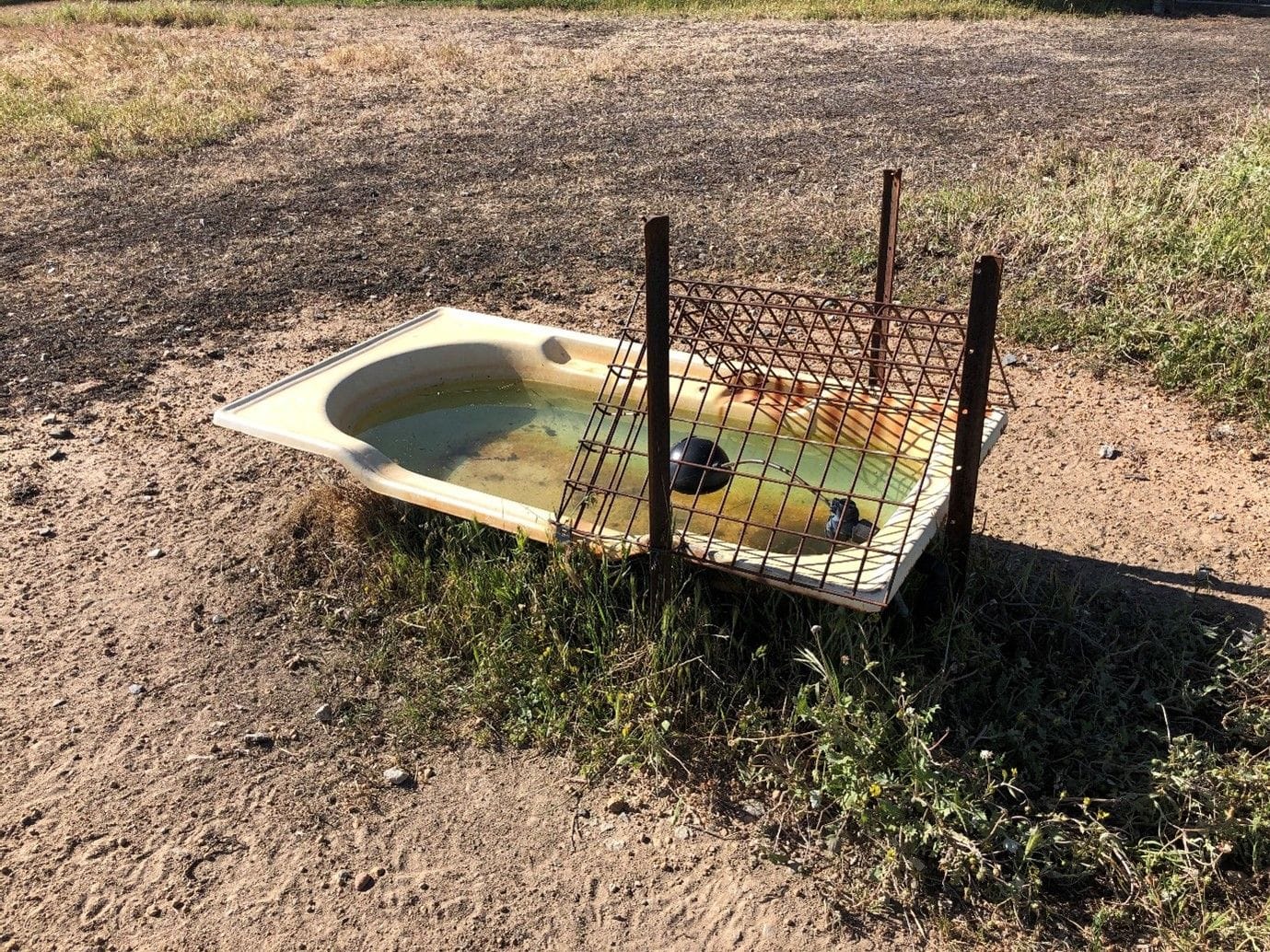 Animals are very similar to humans. Pregnant animals, lactating animals, sick animals, old animals and very young animals are more susceptible to heat stress, and need additional water. Animal species also vary, with chooks, pigs, cattle, horses and alpacas more prone to heat stress than sheep and goats.
If you are watering stock using a dam, be aware of possible water quality problems. For example, if your dam has not received much fresh water during the year, salt concentrations can rise dramatically beneath the surface, and overly saline water will kill stock quickly during summer. Blue-green algae blooms can also thrive in calm water and dam water can be toxic even after evidence of the bloom has disappeared. If you have any concerns about water quality, get a water sample tested before watering stock on a dam.

The Farm Co can help with windmill parts, water troughs and drinkers to suit a variety of animals, and we supply pumps and remote water monitoring systems as well as algaecide trough blocks to keep your troughs clear of algae and slime. We also supply the age old trough broom which keeps your troughs clean, your animals happy and leaves you with abdominal muscles that ripple like Grandma's old washboard. Happy days!
4. Shade
Locating animals so that they have access to adequate natural shade and shelter during summer is another essential component of preparing for summer.
Like human beings, animals adjust their behaviour when it is hot. They feed early in the day when it is cooler, lay off in the shade during the hottest part of the day, and then feed again in the late afternoon when the temperature has lowered again. On the hottest summer days, they will minimise activity by laying off close to the dam or other water source, so shade near to the water source is of huge benefit.
Large trees offer the best kind of shade because they also allow stock to benefit from cooling air movement.

Chooks are especially at risk during summer because they can't sweat. As a result, their water trough or drinker must be shaded, because they need cool water to drink in order to reduce their temperature. They also need plenty of greens in summer (they will adore you if you clean out the fridge or clear out the veggie garden after spring) and they will be positively ecstatic if you give them a few off cuts of juicy water-filled watermelon. On the hottest days, you can also set up a sprinkler in the chook yard to give your chooks lots of lovely wet dirt to scratch around in. They will thank you with lots of happy clucking.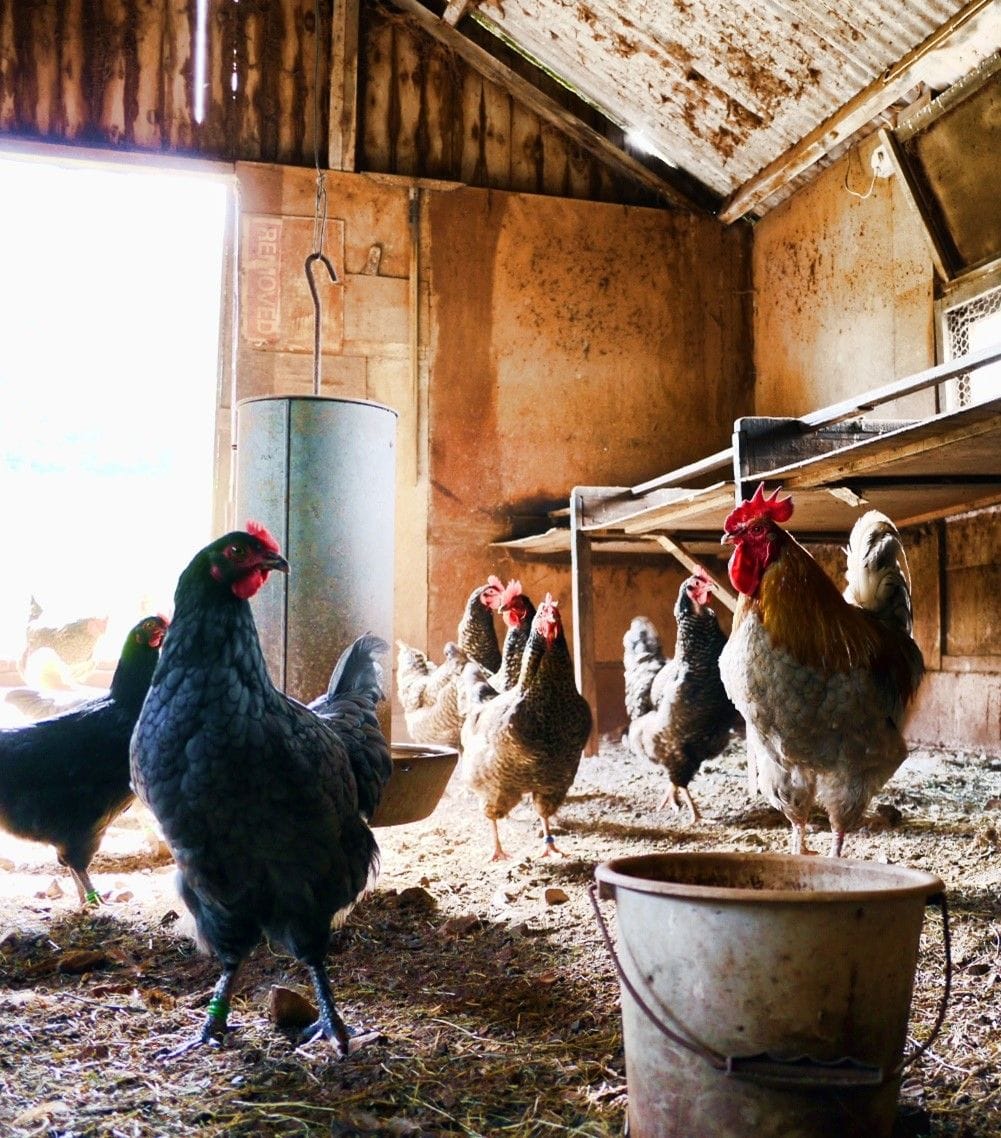 Contact: Farm Co, Yerecoin & Moora: 1300 327 626
Sources:
https://www.agric.wa.gov.au/declared-plants/cape-tulip-what-you-should-know
https://weeds.dpi.nsw.gov.au/Weeds/ArumLily
https://www.agric.wa.gov.au/pest-plants/caltrop-what-you-should-know
https://agriculture.vic.gov.au/biosecurity/weeds/priority-weeds/patersons-curse
https://agriculture.vic.gov.au/livestock-and-animals/livestock-health-and-welfare/caring-for-animals-during-extreme-heat
https://www.agric.wa.gov.au/small-landholders-western-australia/treating-blue-green-algae-small-farm-dams
https://www.abc.net.au/news/2018-01-05/keeping-chickens-cool-in-summer/9301594