WEEKLY YARN | This weeks product news and special offers.
Posted by Amanda Walker on 21 May 2015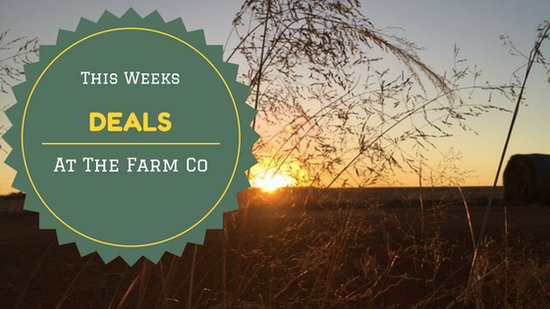 DEAL | 10 % Off Gallagher Energisers

Need some more ZAP in your fences? We have a range of Gallagher electric fence energisers, so you can keep stock in your paddock and money in your pocket.

This week, we're giving 10% OFF any Gallagher energiser ordered, and with such a big selection of quality products, we're sure to have the unit to suit your mob. Whether you are looking for a solar operated, digital or portable electric fence energiser, we have the high-quality, cost-efficient energisers you need.

You can check out our extensive range here, or call us on 1300 327 626 - our friendly staff can talk you through an option specifically for your property.

Discount code: energy15 (simply enter at checkout to redeem 10% off)

---

Elanco Extinosad Eliminator | 1 litre for only $199!

Need to manage maggots, blowflies and lice in sheep? Even resistant strains?

Elanco Exinostad Eliminator does all that, as well as treating mulsed sheep and other wounds, with a nil withholding period for wool and sheep. It can be applied as a jetting fluid, dipping fluid or wound dressing and has a very high margin of safety for operators and livestock.

On special now for $195 for a 1 litre bottle, you save $30 off RRP. A perect size to keep in the shed for emergencies

Click here to order, and for more product information.

---

Looking to increase herbicide application efficiencies?

Efficient herbicide applications can only be undertaken in optimum weather conditions, and to know when they are you need the Kestrel 3500 Delta T Pocket Weather Meter

Delta-T is the difference between the Dry-Bulb and Wet-Bulb temperatures, giving you an accurate prompt for the best spray conditions. Herbicide applications are best undertaken when this reading is between 2 and 8, and this is the only unit on the market which calculates Delta T. It also mesures wind speed and barometric pressure.

Keep your neighbours happy this spraying season, and make the most of your spraying applications. The Kestrel 3500 Delta T pocket Meter is available here for only $389. Alternatively, give us a call on 1300 327 626 and we can talk you through it.

---

Your Livestock-ification sorted with Allflex!

With more than 10 different tagging applicators, we have a solution to suit all environments. The Allflex Fleximatic holds 25 tags at a time, and is ideal for larger mobs, but if you need one handpiece to insert both visual and electronic tags, the Allflex Identiplier is for you! Check out our range here.

Looking to streamline your sheep management processes? We have all the equipment you need to manage your sheep or cattle electronically including scanners, monitoring systems, antennas, scales and system components.

With suppliers including Gallagher and Allflex, you can be assured that you're purchasing robust and quality equipment. Check out our range here or give us a buzz on 1300 327 626 for more product support.

---

Aussie owned and operated. Always.

The Farm Co is a rural family-run company in Western Australia. So when you shop with us you know your money is staying in the bush and contributing towards strengthening Australia's rural economy. Find out more here

Help, Product Support & Advice.

Our friendly and experienced staff are happy to answer your questions, solve your problems and make suggestions. We want to find the best solution for your land, block or property conundrum.
Give us a hoy on 1300 327 626, we can take your order over the phone and organise delivery direct to you.